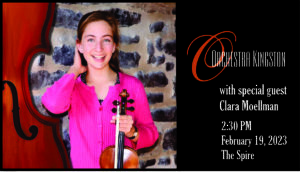 Make Valentine's Day 2023 continue into the weekend! Celebrate it with us Sunday 19 February 2023, when Orchestra Kingston presents a musical tribute to women in the Arts, featuring multi-award-winning violinist, Kingston's own Clara Moellman. Hear her perform the "glorious, show stopping" Max Bruch Violin Concerto No.1 , then stay for the "irresistible" Amy Beach "Gaelic" Symphony No.2 inspired by Old English, Irish, and Scottish melodies. At The Spire, 2:30pm in Kingston. Tickets: $25, $20, Free under 16, at Eventbrite, Novel Idea, Arden Music, and at the door.
Proclaimed "incredible" and "impeccable" (Craig Bakay, Frontenac News, 2019), Clara Moellman's performances show off "her passion and her persistence," according to Orchestra Kingston music director John Palmer, who adds, "She has really impressed everyone."
Clara Moellman, winner of multiple Kiwanis Music competitions, recalls, "I was 13 years old when I first heard a recording of this violin concerto by the famous David Oistrakh. I knew, even back then, that I wanted to achieve that kind of strength and power of interpretation."
Kingston audiences will be the winners when they hear Clara Moellman perform the truly "barnstorming" Max Bruch Violin Concerto No.1 with Orchestra Kingston, Sunday 19 February 2023 at The Spire 2:30pm in Kingston.
After many years of intensive study and practise with well-known Kingston teacher and violinist Caroline Bourque, 16 year old Clara says, "I now understand well all the orchestral colours of Bruch's 'grand and lyrical' piece."
Moellman explains the wide, emotional range of the Bruch. "The first movement is meditative and introduces me to the audience. Then, the tender melodies of the second movement lead to a kind of conversation between me and the orchestra. Finally," she concludes, "the joyful, exuberant third movement leads us all to the concerto's final, fiery finish."