Orchestra Kingston is a community orchestra located in Kingston, Ontario, Canada. Since 2008, we have been performing concerts that feature a wide range of musical genres, with a special focus on Canadian composers.  We often perform in collaboration with other community ensembles and professional soloists.
We provide an opportunity for amateur musicians in the Kingston area to play orchestral repertoire under the baton of a professional music director, and to develop their skills as orchestral players in a relaxed but dedicated environment. We prepare a four concert season and meet on Tuesday evenings from 5:30 to 7:30 p.m.
---
Next event: The King of Instruments
Feb. 23, 2019, 7:30 p.m. | St. George's Cathedral (270 King St. E., Kingston)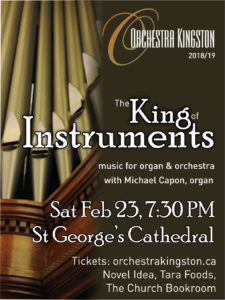 The third concert of our 2018/19 season sees Orchestra Kingston joining forces with organist Michael Capon in a presentation of music for the King of Instruments and orchestra. Our concert will feature music written by Debussy, Faure, Gounod and Saint-Saens. This concert will take place February 23, 2019 at 7:30 p.m. in  St. George's Cathedral and will showcase the organ of St. George's, one of the finest organs in Eastern Ontario.
Online tickets on sale now. Tickets also available at Novel Idea, Tara Natural Foods, and The Church Bookroom.